Three Winning Strategies for Creating a Corporate Gift Program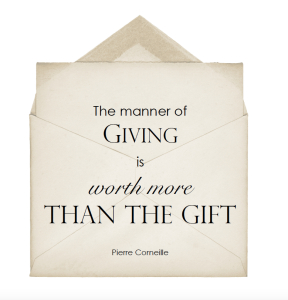 Selecting the perfect corporate gift is big business. US companies spend over $80 billion each year on merchandise, gift cards and incentive travel.[1] In a recent survey, 75% of US businesses use non-cash rewards to reward and recognize their employees, clients, distributors and partners. In Canada, 69% of corporations are using incentives and rewards to motivate employees,[2] spending an average of $175 per employee.[3]
The responsibility to purchase merchandise and corporate gifts most often falls to individuals within the marketing, human resources or administrative teams. Often, those responsible for this task are busy with a myriad of other responsibilities.
With thousands of options available, the selection process can be daunting.  At times, quick choices are made, resulting in the selection of fewer products with limited appeal to the target audience.
We recommend three strategies for developing an incentive campaign to reach the minds and hearts of your target audience.
Personalization of Rewards
We believe the most successful incentives are those that offer a "Personalized Experience". The primary purpose of a reward is to create a workplace where everyone feels appreciated. Gifts carefully selected are more meaningful to the end recipient. A personalized gift shows the employer knows and values the recipient on a deeper level, which in turn makes the reward worth more.
Fitness & Health Related Rewards
We have all read the reports that "sitting too long can kill you". A paper published this year in the Annals of Internal Medicine found that "prolonged sedentary behavior" resulted in up to a 20% higher risk of developing major diseases such as heart disease and cancer.[4] Incorporating rewards to help mitigate the damaging effects of hours in a chair benefit both the individual and the corporation. These are the type of rewards that keep on giving.
Innovative Rewards
So often rewards campaigns start to look the same.  The merchandise presented does not fully inspire.  Participants may already own the items being presented.  We recommend including a sampling of the latest, most innovative products available.  Please help us on the journey by sending recommendations for our blog to:  experiences@inveniainc.com
[1] Incentive Federation Inc – Study Prepared by Aspect Market Intelligence  
[2] Berkeley Payment Solutions – Canadian Incentive Trends Survey, a Topline Report
[3] The Conference Board of Canada Report – "Making It Meaningful: Recognizing and Rewarding Employees in Canadian Organizations"